Weap.io provides a better backup solution by allowing you to automatically take daily to hourly backup snapshots of your droplets/volumes.
Getting started is very simple
Connect with your DigitalOcean account
Configure how frequently you want to backup your droplets & volumes
Configure how long you want to retain the backups
We believe in not limiting the features we offer. Each plan has access to all features, only the number of droplets & volumes differs based on the active plan.
Besides that, we offer 14 days of free trial.
Features
Support for both Droplets and Volumes
Retain Daily, Weekly and Monthly and Backups
Option to backup every 24,12,6,4,2 and 1 hour
Flexible and easy to configure retention
Region replication
Multiple DigitalOcean accounts
Unlimited snapshots
Screenshots
Configure the backup rules of the droplet/volume
With the below configuration, Weap.io will create a new snapshot every day at 00:00 and will retain:
the last 7 copies of the daily snapshots
the last 4 copies of the weekly snapshots
the last 6 copies of the monthly snapshots
Configure in which regions the snapshots should be replicated
As an extra safety layer, you can configure in which regions your snapshots should be replicated and Weap.io will automatically take care of that. Thanks to the generosity of DigitalOcean, replicating a snapshot to multiple regions doesn't cost more.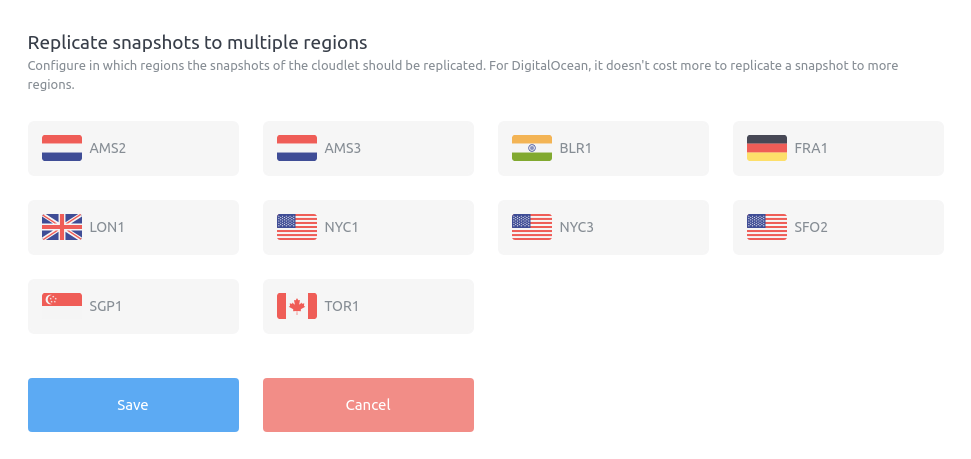 Overview of your backup snapshots
A simple and clean overview of what is happening with your droplet/volume (or simply cloudlet). The snapshots can be filtered by tags and status.
Multiple DigitalOcean accounts
Weap.io works out of the box with multiple DigitalOcean accounts. Use as many as you need :)